Access Your Money. Any Time. Day or Night.
At Lakeland Credit Union, we pride ourselves on our service to members and believe there is a number of options for individuals to access their money. No matter what your banking needs are, we can find a way to make your payments and withdrawals easy, safe and convenient.
For members who prefer to bank during business hours, we have: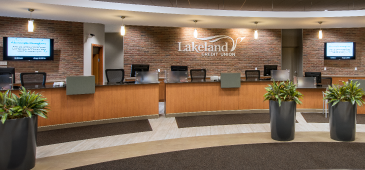 A full service teller line in branch.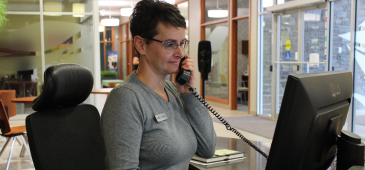 Reception staff available via telephone for inquiries.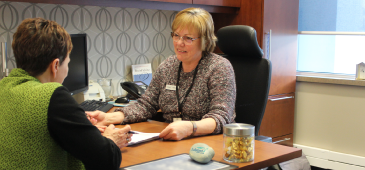 Member service staff are available by drop in, phone, email or appointment.
For members who prefer instant electronic access anywhere:
Mobile Deposit
Depositing cheques is a snap
With Mobile Deposit, you can quickly and securely deposit cheques with your smartphone or tablet, from anywhere, day or night.
Here's how it works:
Open the LCU app on your iPhone® or Android™ device
Select 'Deposit'
Select your account you wish to deposit to and enter the amount
Snap a photo of the front and back of your cheque
Confirm the details and tap 'Submit'. That's it!
It's so easy. 
Online Banking
Online banking is an easy, quick and secure way to do your daily banking on your own terms. Manage your money wherever your are, any time of the day, any day of the week with great self-serve banking options.
Online banking options:
View Account details, transactions and eStatements
Open a new chequing or savings account
Pay bills, schedule payments and manage payees
Transfers funds between your accounts
Send money via Interac e-Transfer
ding free® sea to sea
From BC to Newfoundland, credit union members have access to over 1,800 surcharge-free ATMs. Added up, that's a bigger ATM network than most banks. And it's all ding free®.
Leave ATM surcharges behind you.
We've all been dinged by surcharge fees at an ATM that wasn't our own. But as a member of Lakeland Credit Union you don't have to rely on our ATMs to keep from getting dinged ever again. In fact, you're part of one of the largest surcharge-free ATM networks in the country.
Any credit union ATM is your credit union ATM.
Belonging to a national ATM network means you can bank ding free from sea to sea, with access to a national network of surcharge-free ATMs – a network bigger than most banks. Just look for a ding free sign on your ATM and say goodbye to those pesky surcharge fees.
Get the ding free locator app today.
Available for iPhone, Android, Windows and Blackberry devices, our new ding free® locator app can help you find the nearest surcharge-free ATM – wherever you are. To get yours for free, visit ding-free.ca
Interac e-Transfer
Transferring money can now be done quickly and securely with Interac e-Transfer®! All you need is your recipient's email address or mobile phone number to send money in just a few quick and easy steps.
When to use Interac e-Transfer:

Splitting the bill in a restaurant
Paying a roommate for your portion of rent or bills
Sending some birthday cash to a family member
Paying for everyday purchases such as housekeeping, babysitting or home repairs
Interac e-Transfer has two new features, making it even more convenient:

Request Money
You can now send a money request through your app or online banking. It's an easy way to say "you owe me money" between friends. For businesses, it's an important tool to streamline payments.
Autodeposit
You can now securely receive money transfers without having to log in to online banking or your app for every transaction. You can choose to register your email address with Interac e-Transfer® to automatically deposit funds for you, making Interac e-Transfer® an even simpler and faster way to receive your money.


| | | |
| --- | --- | --- |
| | Sending Limits | Receiving Limits |
| Per transaction | $3,000 | $25,000 |
| Per 24-hour period | $10,000 | N/A |
| Per 7-day period | $10,000 | N/A |
| Per 30-day period | $20,000 | N/A |

*Within Canada only*
*Depending on account package, a non-refundable fee of $1.50 will be charged for sending an Interac e-Transfer®
Looking for more information? Visit the Interac e-Transfer† homepage or Interac e-Transfer† Security for more information on how this feature works, or contact us to speak with a Member Service Representative.

Statements
Reduce your environmental footprint with online statements. Our internet banking users can now view their statements online, anytime.
Other benefits include:
You will receive your statements faster than if they were mailed to you.
Improved record keeping. Members will have the option to file their statements electronically on their own back-up system rather than only having a paper file.
Security– there is virtually no opportunity for misdirected, lost, stolen or tampered statements like regular mail. Members can simply delete statements instead of having to shred paper copies.
Environmentally friendly– an average statement with cheque imaging is approximately 4 pages. Lakeland Credit Union has 12,000 members - that's a lot of paper!
There is a $2/month charge to receive a paper statement with most of our accounts. Ask our staff if the charge applies to your account.
Do your part to end paper waste!
To stop your paper statement:
Visit our branches in Bonnyville and Cold Lake today.
Call 780.826.3377 (Bonnyville) or 780.594.4011 (Cold Lake) and speak to a Financial Advisor.
Email to 
admin@lakelandcreditunion.com
 with your complete name and phone number and we'll get back to you regarding your paper statements.
MemberCard®
Style, Security, and Convenience
Your LCU MemberCard® Debit Card has it all.
Convenience
Access your funds instantly while spending only what you can afford. Make withdrawals, deposits, and more after regular banking hours, or when you are out of town. Your account balance is always up-to-date without the delay of cheques having to be processed.
And forget fumbling with change and losing coins in your couch cushions, because Interac Flash† technology means you can quickly and easily pay for small purchases with a tap of your card. There's no need to insert your card or enter your PIN. Simply tap the corner of the card to the merchant's reader, and off you go.
Security
The chip technology used in your card keeps your data secure, so you are protected against skimming, fraud, and electronic pickpocketing. You can only use Flash† for purchases under $250, and once your cumulative purchases exceed $400, you will be prompted to insert your card and reset your Flash† limit. Where the MemberCard® Debit PIN Agreement has been adhered to, the Interac Zero Liability policy provides added protection against unauthorized purchases. Learn more about limit increases.
And every time you make a purchase with your LCU MemberCard® debit card, you're automatically protected with the following benefits:
Buyer Protection offers protection on the purchase of most retail items - including gifts! For a full 90 days after purchase, the item is protected if it's stolen, dropped and broken, or even consumed in a fire.
Extended Warranty doubles the warranty period of a purchased item up to one full year, as long as the manufacturer's warranty is valid in Canada for five years or less. You can feel confident forgoing that expensive extended warranty offered by the retailer.
The MemberCard® daily cash withdrawal limit is set at $400, and daily direct payment purchases are limited to $2,500.
Travel Tips
You can use your MemberCard® to withdraw cash at any international ATM displaying symbols corresponding to those on the back of your card. International ATM fees are typically higher than domestic ATM fees.
Check the month your MemberCard® expires. If you plan to be on vacation that month, contact Lakeland Credit Union to get your new card before you leave.
Cardholder Safety Tips
Never lend your card to anyone, including friends and family.
Protect your Personal Identification Number (PIN) - Memorize it, never write it down.
Never disclose your PIN to anyone. When selecting a PIN, avoid obvious combinations such as sequential numbers, birthdate, telephone number, etc.
Check your statements regularly and notify your credit union immediately if you detect any unusual activity such as purchases you did not make.
You have the option of securely accessing what you need whenever you need it. This removes the hazard of carrying cash around with you and the inconvenience of planning how much cash you'll need each day. With just your debit card and Personal Identification Number (PIN) you can gain confidential access to your account anywhere you see the Interac® Direct Payment symbol.
With your MemberCard® Debit Card:
Purchase protection insurance is included for 90 days from the date of purchase for most items.
Extended warranty insurance doubles the original manufacturer warranty up to one year on most consumer items purchased.
There are no incorrect charges because you verify the purchase amount before you enter your PIN.
You can use your MemberCard® debit card surcharge free at any Ding Free®credit union ATM nationwide. To find a Ding Free® ATM near you go to ding-free.ca to download our free app.
Please note: There is a $3.00 service charge fee for ATM transactions outside of Canada.
To report a lost or stolen MemberCard® please call 1-888-277-1043 from anywhere in Canada or the US.
Safety comes first, protect your PIN.  Cardholders should not take unnecessary risk.
Purchase Protection
The LCU MemberCard debit card comes with built in purchase protection insurance and extended warranty insurance.
Imagine the benefit of automatic protection.
Ever get home after a day of shopping for that perfect gift only to discover something is damaged and the retailer won't offer a return? Ever worry that your new flat screen TV will suddenly decide not to work, the week after the warranty expires?
Don't worry. You're covered every time you use your MemberCard debit card to make a purchase. Best of all, there are no forms to fill out, no applications and no extra cost!
How does the program work?
It's simple. Every time you use the MemberCard debit card for an Interac direct payment purchase, you're protected with the following benefits:
Buyer Protection
This coverage offers protection on the purchase of most retail items – and that includes gifts! For a full 90 days after the purchase, the item is protected if it's stolen, dropped and broken or even consumed in a fire.
For example, if you're wrapping that expensive crystal vase and it suddenly crashes to the floor, you're protected.
Valid claims will be satisfied either by replacing the lost or damaged item, or by a cash payment in an amount not to exceed the purchase price.
Extended Warranty
The program doubles the warranty period of a purchased item up to one entire year, as long as the manufacturer's warranty is valid in Canada for five years or less. For example, when you purchase a TV, the manufacturer would typically offer a one year warranty. But if you use your Member Card debit card for the purchase, the TV would be protected for an additional one year period.
Chequing Accounts too!
Shopping at a merchant who doesn't offer Interac Direct Payment? No problem! You can make a purchase using a cheque drawn on your insured account and receive the same protection for you purchase.
What is not covered?
Items not covered include: cash, travelers cheques, motorized vehicles, animals and living plants.
Making a claim?
Just be sure to keep a copy of your transaction record, the merchant bill, and (for warranty claims) the manufacturer's warranty. Simply call 1 877 564 2847, ext. 6895 (open 24/7) and a Claims Representative will assist you. You will need to fax or email in copies of your documentation. An adjuster will contact you to advise how your claim will be processed.
Lakeland Credit Union has nearly $650 million in assets. But what does that mean to you? It means that we are large enough to be a significant financial institution with a full range of options, but still small enough to make quick and informed decisions right here in Bonnyville and Cold Lake.
Wire Transfer
Sending a wire transfer is a convenient, efficient and safe way to move money between financial institutions almost anywhere in the world.  Funds can be sent in almost any currency and received in either Canadian or U.S. Dollars.
To send or receive a wire, specific information must be provided to ensure the transfer meets all the rules and regulatory requirements, allowing the wire to pass quickly through what may sometimes include multiple systems.  If any information is missing or incorrect, the wire may be delayed or not arrive at its destination at all.
Incoming Wires 
To receive a wire transfer you must provide the necessary information to the sender.  Instructions differ depending on where the wire is coming from.  The currency being received will also determine the routing instructions.
Outgoing Wires
Sending cut-off times apply.  Contact your branch for details.
To send a wire transfer you must provide the sender's full legal name (or full legal business name) and full physical address.  Similar information will be required about the beneficiary along with their banking information and any additional details specific to the destination of the wire. 
Refer to the checklist or complete the information form below to ensure you provide all the necessary details to your Lakeland Credit Union branch for processing.
Lakeland FX
Simple, convenient, and secure online trading.
Lakeland Credit Union Foreign Exchange (Lakeland FX) allows our business members, who deal with high quantities of foreign goods or services, to mitigate currency risk, report and plan more accurately, and improve profitability on foreign transactions.
Individuals may also benefit from the ability to watch for their best rate when regularly buying or selling a minimum of $1,000USD to cover travel or living expenses.
The platform streamlines your ability to make and receive payments using USD currency and allows you to settle transactions without using drafts or wires – we process directly with your preferred accounts at Lakeland, no later than next business day.
Sign up for our online foreign exchange platform and you can trade at your convenience on any computer with an internet connection.  Access to the platform is available from Sunday at 5pm EST (3pm MT) through to Friday at 5pm EST (3pm MT).
Our platform allows you to buy or sell USD currency in real time with spot trading – exchanging Canadian funds for USD currency immediately.


To learn more or sign up for our FX platform, drop into one of our branches and ask how you can get started – or reach us at:

Bonnyville Branch | 780-826-3377
Cold Lake Branch | 780-594-4011
centralservices@lakelandcreditunion.com
Travel insurance bridges that gap in coverage to help you stay protected during a medical emergency. Be sure to carry travel insurance to safeguard your finances and enjoy a worry-free trip.